The Gates, NYC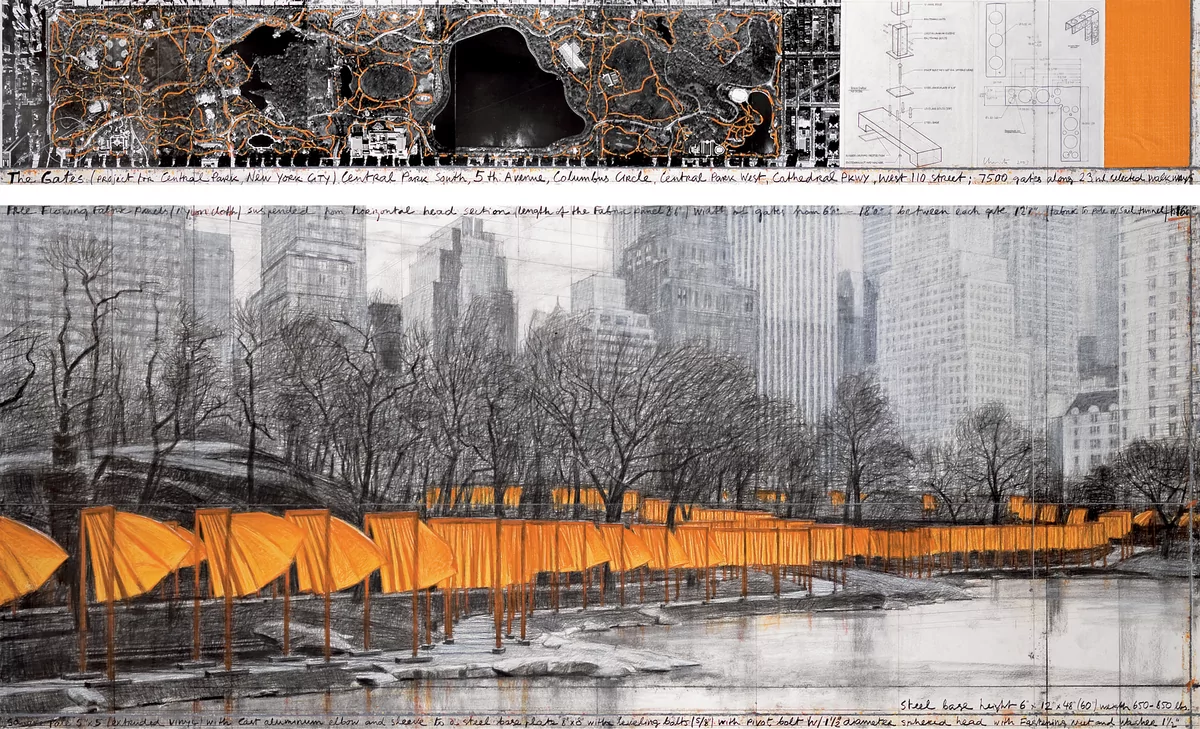 The Gates were overwhelming in their magnitude. The best part was when you happened upon an angle or view where you could see 40 or 50 of these things all at once in a curvy row. And then wait for the wind to blow. They seemed to keep reminding me of flowing dresses. The bright orange felt like summer, and momentarily made me forget about my bones chattering. I would love to see those bright colors contrasted with pure white snow on the ground.
I arrived at about 7am on Saturday and took the A-line in to Manhattan, which takes forever. I was worried about arriving late for the unfurling, since I was perceiving that somehow all the gates would be opened at once. Luckily (I guess) the many groups of people doing the opening took their sweet time, posing for cameras, and joking around. They are paid and bonded for insurance purposes, so no, you can't open one of the gates, mister.
After a few hours of wandering around, and not being able to feel my fingers, I go to the top of the Metropolitan Museum of Art (40 minute line wait) to take in a grander view. There were a few good angles, but trees obscured a lot. I think it would have been best to go to the roof of that very tall building in New York I forget the name of.
Spent a few hours in the MET looking at art students painting ugly versions of beautiful paintings on the walls. Around this time I ran completely out of steam, since I hadn't slept at all on the red-eye flight out. After a few failed attempts to hide in some cozy museum spot for a nap, I was out to Times Square to find a hotel no matter the cost.
Everything was booked. Angry and delusional I vaguely recall badgering the desk clerk at The Plaza about the absolute necessity of dorm beds. Eventually, a friendly lady at the 5th hotel I tried wrote down a list of the 4 lowest priced (crappiest) hotels in Midtown, which usually tended to have openings. The second YMCA on the list turned out to be my savior, and 20 minutes later I was taking a $70 nap.
The Y was fine, if you don't mind prison-style showers, and sleeping in your clothes 'cause you don't trust the sheets.
Later that night I met up with an old friend studying in the city, and we went out for a night of dinner(s) and revelry. Lesson learned: make reservations. Places where you don't need a reservation to eat probably deserve not needing a reservation. The wine was good however.
Whirlwind tour of Soho, Upper West Side, Midtown, as seen from the inside of bars and taxis. Every place in Soho we went seemed to theme itself based on color and drown you in its tinted lights. Reds, purple, pale green.
Wake up on friend's couch. Walk around central park for a few more hours. Almost adjusted to the cold by now, but never the wind. Oh Christ The Wind. Lots of happy smiling Valentine's couples out and about, which gets on one's nerves after a time.
Fail at trying to find a too-expensive hair salon open on Sunday. Fail at going to Cafe "the best pastries in New York" Pagard on Lexington and 73rd, also closed. Fail at finding a copy of Spring Snow at two Midtown booksellers: "Mishima is too, err, intense for this part of town".
I give up and go shopping. NYC is understandably pretty streamlined for shoppers, so I have no problems rerouting a few paychecks.
A quick $20 taxi ride to LaGuardia, at little incompetent-airline two-step, and I'm back home in S.F. by 10pm. All-in-all a pretty successful and fulfilling spur of the moment trip. Next time I'll try to bring a change of clothes.
2005-02-16